Demonstration Online Party Booking Website
You can see an example of what the online booking page might look like on our made up website. Click on the links below to go to our example parties... Please note that this is a demo setup, but it will use your REAL money if you make a payment!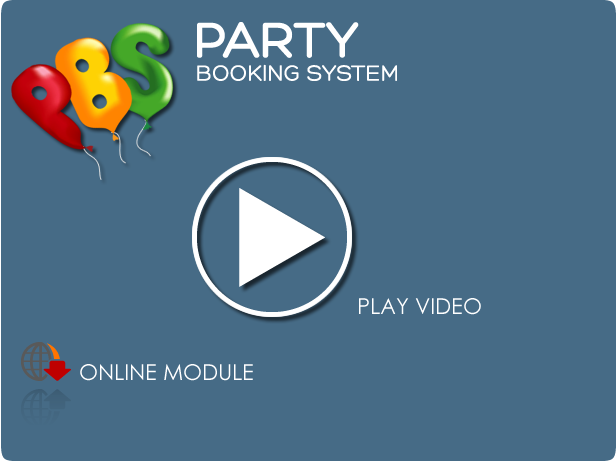 The Online Booking Module is for those party and activity centres that wish to take bookings online via their website.
This module integrates into the main Party Booking System and will synchronise the types of parties, along with their options and their availability of dates and times to a website.

Visitors to the website can then select the type of party they would like to book, choose their preferred date and time from those available and make a booking. Costs for the party are calculated depending on the number of attendees and the selected options.

Deposit payments are taken through the Paypal gateway system. (note: visitors do not themselves need a Paypal account).

Once a booking is made on the website the Party Booking System is alerted and the play centre computer will be aware that an online booking has been received. There will also be an email notification to the centre and the customer. Once a booking is received it can be processed through the normal procedures.
Watch the video and test out the demo website links below to give an idea of what it may look like with your party centre.



Online Party Booking Module
Receive bookings from the web 24/7. Automated reservations direct to your desktop
A fast, powerful desktop software application with the ability to receive online bookings is the perfect combination. You will have responsive 'desktop speed' and no lagtime, but should you lose your internet connection the program will be unaffected - there is no downtime which can happen with online hosted solutions.